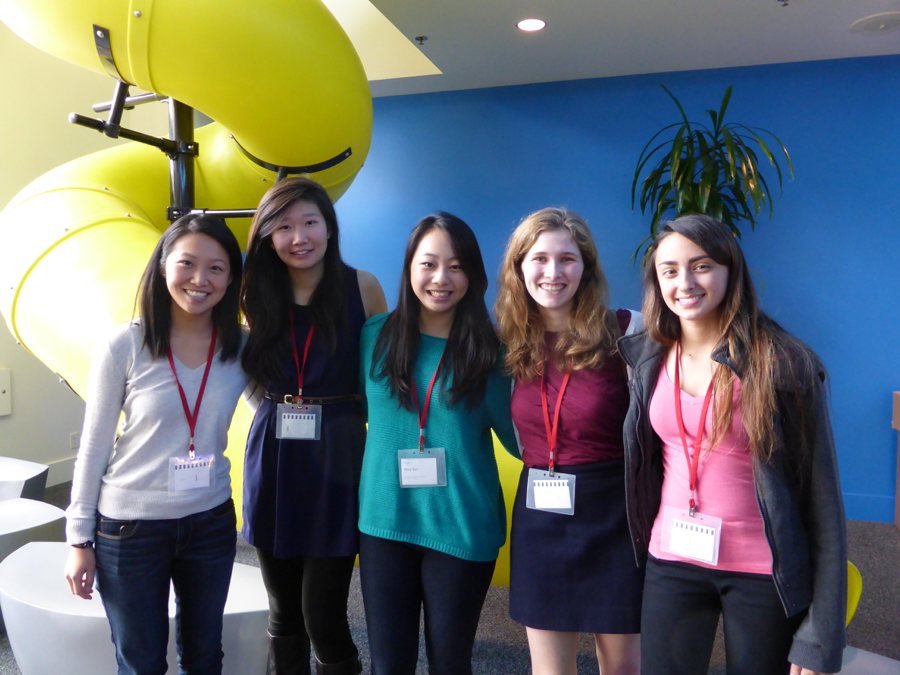 Our five finalists during their visit to Box HQ.
First up, Isabella Moreira. Born in Brazil and raised in Central Florida, Isabella loves that with computer science, she can iterate really quickly when building things and still reach millions of people instantly. A competitive programmer, Isabella first started competing during high school when she joined a team for her AP Computer Science class that competed in a high school competition at the University of Central Florida. Although she was initially hesitant, she had so much fun that she not only became a mentor the next year, but joined a team at university as well. Isabella has a passion for making peoples' lives easier: she dreams of automating processes and finding new ways to make the combined online and physical experience more seamless.
Next is Mary Sun. Although initially she wanted to be a scientist, her interest in healthcare systems has led her to explore computation biology as a way to make a rapid, measurable impact in the field. A junior at the University of Pennsylvania, she has focused on making applications that address real-world problems in healthcare — at scale. As the co-founder of Synapsis, she built an app to help train incoming plastic surgeons. When she's not working on changing the future of healthcare, Mary is a slam poet and is constantly on the lookout for ways to bring humanism to tech, finding new ways to connect people with technology and health.
Megan Renshaw got her start working on data visualization problems early, participating in a visualization team at Florida State University working on a educational visualization of water flow while still in high school. Now that she's a junior at the University of Chicago studying math and computer science, she has turned her data viz skills towards biology and anatomy, analyzing the skulls of primates, searching for clues to their evolution. She sees computer science as a creative field with the power to solve problems across many fields, and is particularly excited by the potential to automate not only data collection but analysis to help move the scientific establishment forward. When she's not working on science and visualization projects, she's a tutor at the Hyde Park Neighborhood Club and plays both ukelele and guitar.
Jiayun (JN) Fang, a junior at Harvard, brings a global perspective to her study of computer science and health policy. She was born in China and emigrated to the US as a child, but continued to pursue international opportunities, taking her first internship in India and planning to spend an upcoming term in Peru. Although originally she aspired to be a doctor, JN decided to shift her focus to Computer Science so her impact wouldn't be limited by her physical presence in a specific location. As someone with a connection to the developing world and a strong understanding of the challenges it faces, she now hopes to start a company focused on enabling nonprofits and startups to make an actual, measurable impact. In the meantime, she's already working on an impact of her own, spending time in a lab building an apparatus that allows field health workers to tell if a patient has dengue fever or ebola on the spot.
Nina Jessica Lu had to sneak out of the building during her visit to Box HQ to interview for YCombinator. Though she's still only a junior in college, she is the co-founder of a startup called Credence, which helps businesses to predict future job performance in candidates by using longitudinal analysis of their social media presences. Before starting the company, which already has 5 employees and has won competitions at the University of Chicago, she worked on applying computational biology to HIV vaccine development, exploring the use of rational design on an atomic level to develop new viral agents. A CS and finance double major from Maryland, Nina has been coding since middle school, is working to develop an SMS-based tracker for disease outbreaks and has interned for Apple and Microsoft, working on automation and data pipeline projects.
Congratulations to all of our finalists (and a special shout-out to our grand prize winner, Jiayun!) We expect to see incredible things from all of them for years to come.